Earlier this evening, Nintendo streamed the first Nintendo Direct presentation we have seen since the passing of former Nintendo of Japan President Satoru Iwata. The following is everything discussed during said presentation in order, along with some brief thoughts:
The Legend of Zelda Twilight Princess HD Remake coming to WiiU -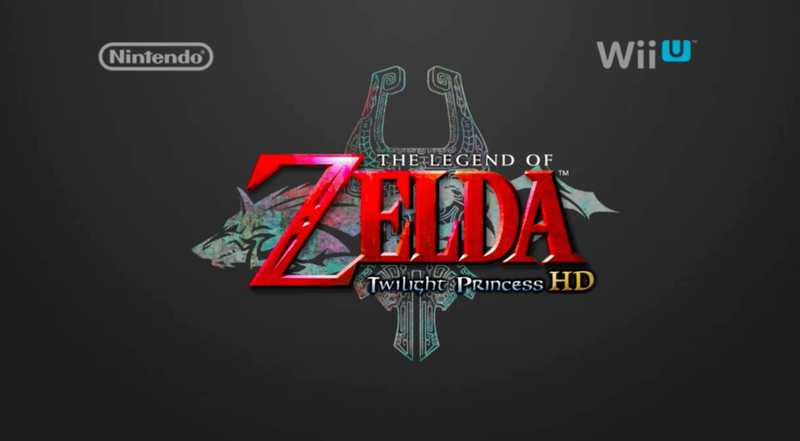 Twilight Princess is my favorite LoZ game, so I am excited to know that many gamers will be picking it up to play again. That being said, the footage of the game showed during the Nintendo Direct looked underwhelming. I had a very hard time identifying the differences between the original version and the HD footage, not to mention the fact that those near 10 year old models haven't aged as well as they did in Wind Waker. It'll be fine, since it's Zelda, but we'll have to see about this one.
Zelda WiiU-
Literally all they said was that it was still happening.
New Pokemon Mystery Dungeon for the 3DS-
Take it or leave it. I left it.
New Splatoon stages/weapons/gear/etc.-
Indifferent. The game is amazing with or without new additions, so either way is fine by me.
Super Mario Maker App-
Apparently, a new PC and mobile devices app is going to be released in order to introduce a more efficient way of searching for user-made stages worth playing in Super Mario Maker. lol
Animal Crossing Amiibo Festival-
Take it or leave it. I bloody left it. They also mentioned a couple of Animal Crossing Amiibo, but I feel like that craze has passed.
Mario Tennis Ultra Smash-
Release date- Nov 20. Demonstrated a few of the new moves in the game. If you're into it, you should be pleased; if not, skip.
Xenoblade Chronicles X-
Xenoblade Chronicles X
Release date: Dec 3. Kind of just reminded us that it was coming out...again. It looks really good, but nothing new to report.
Nintendo Badges-
God, I can't even remember. I think it is a free-to-start 3DS game that contributes to an ability to unlock new themes for the 3DS Home Screen.
Pokemon Picross-
Another Pokemon-themed puzzle game for the 3DS. Pokemon shuffle is really good, but I don't need another Pokepuzzle game, personally.
Steamworld Heist-
A tactical 2D strategy game. It kind of looks like a 2D Codename S.T.E.A.M. It looks pretty good to me. I'll keep my eye on it.
Fast Racing Neo-
Didn't look as good as what I would want a new F-Zero game to be, but I'll keep my eye on it.
Puzzle platformer that uses the manipulation of letters in words to affect what that word does in the game. It looks artsy and unique; I'll be sure to keep my eye on this as well, especially since I can sense that it will be inexpensive upon release.
Pokken Tournament-
Nothing really new to report, but it looks really fun. I'll probably get it soon after it launches.
Star Fox Zero-
Release date- Apr 22. Doesn't look any better or worse than it has been looking in past trailers. I'm curious about how this game will do.
Mario and Luigi / Paper Mario crossover game-
Looks to be a combination of Paper Mario and the Mario & Luigi games. It's not hard to imagine since the games feature almost identical gameplay.
Final Fantasy Explorers-
Release date- Jan 26. Looks alright. First FF game on the 3DS. Should be worth keeping an eye on.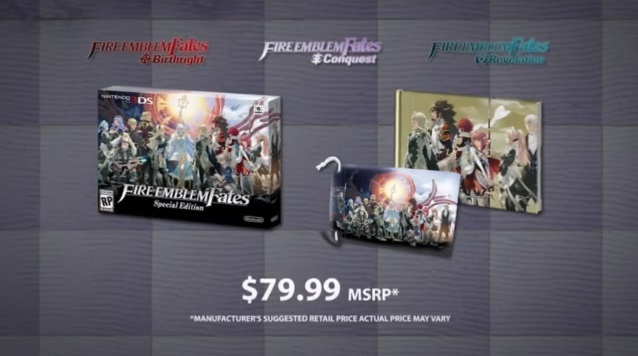 FE Fates Bundle includes all 3 games, 3DS
drawstring pouch, and an artbook for $80
Fire Emblem Fates: Birthright/ Conquest/ Revelation-
Release date: Feb 19th. Looks really good. Dunno how I feel about the story being spread across multiple games, but an $80 bundle for all 3 titles is being released, and tbh, that's not the worst deal.
Pokemon Red, Blue, Yellow on 3DS eshop-
Release date- Feb 27th. Can't find anything to complain about here, unless you already own the games. At least having them on the 3DS will relieve you of the stress of having that old internal battery wear out on you. I'm curious to see how much they will cost.
Hyrule Warrior Legends-
Release date- March 25. Take it or leave it. Didn't look too bad to me, but redundant if you've played the Wii U version
Dragon Question VII-
If you're into DQ, I don't see why you wouldn't be happy.
Cloud Strife in Super Smash Bros.-
I'm stoked. No release date, but an awesome choice.
http://www.ign.com/articles/2015/11/12/final-fantasy-7s-cloud-coming-to-super-smash-bros-wii-u-3ds Check it out here.
All in all, there should be something here for everyone. I'm excited, but more importantly, I'm pleased.